Hải Vân Pass, Vietnam
Instead of giving you the surface details that you can find anywhere on the internet, I am going to give you some pretty great hacks that will make your travels through Vietnam breezy.
1. Unlock your phone.
An unlocked phone will be key to getting your first day in Vietnam started off right. In the airport you can buy a sim card and small plan for approximately $10-20 CAD. Most plans include a lot of data and limited texting and calls, this is fine for what you will need it for. Once you are hooked up, download the Grab app. Grab is similar to Uber (you can download that as well-I prefer Grab) and can get you from point A to point B with directions and a set price. You will go on the app, book your car or bike, and the app will confirm when a driver is found. You will receive a call from your driver, they will be yelling Vietnamese into the phone, say "Hello", "English", "No Vietnamese", and they will hang up or say "5 minutes, 5 minutes." On the app you will be able to see where your driver is so patiently wait, and they will arrive. This will save you big on taxi fares and give you peace at mind on where you are going. Once you have dropped your bags and can go by bike it will save you time and money. Be aware of fake drivers (always check the license plate) and be aware of late night rides. There have been many reported incidents of drivers assaulting women. Trust your gut, if something is off do not get in the car or on the bike. I always had drivers who were respectable and did their job, but you can never let your guard down.
2​. Live as the locals live: get up early, cover your skin, eat family style, and use the bum gun (I'll go more into this later on).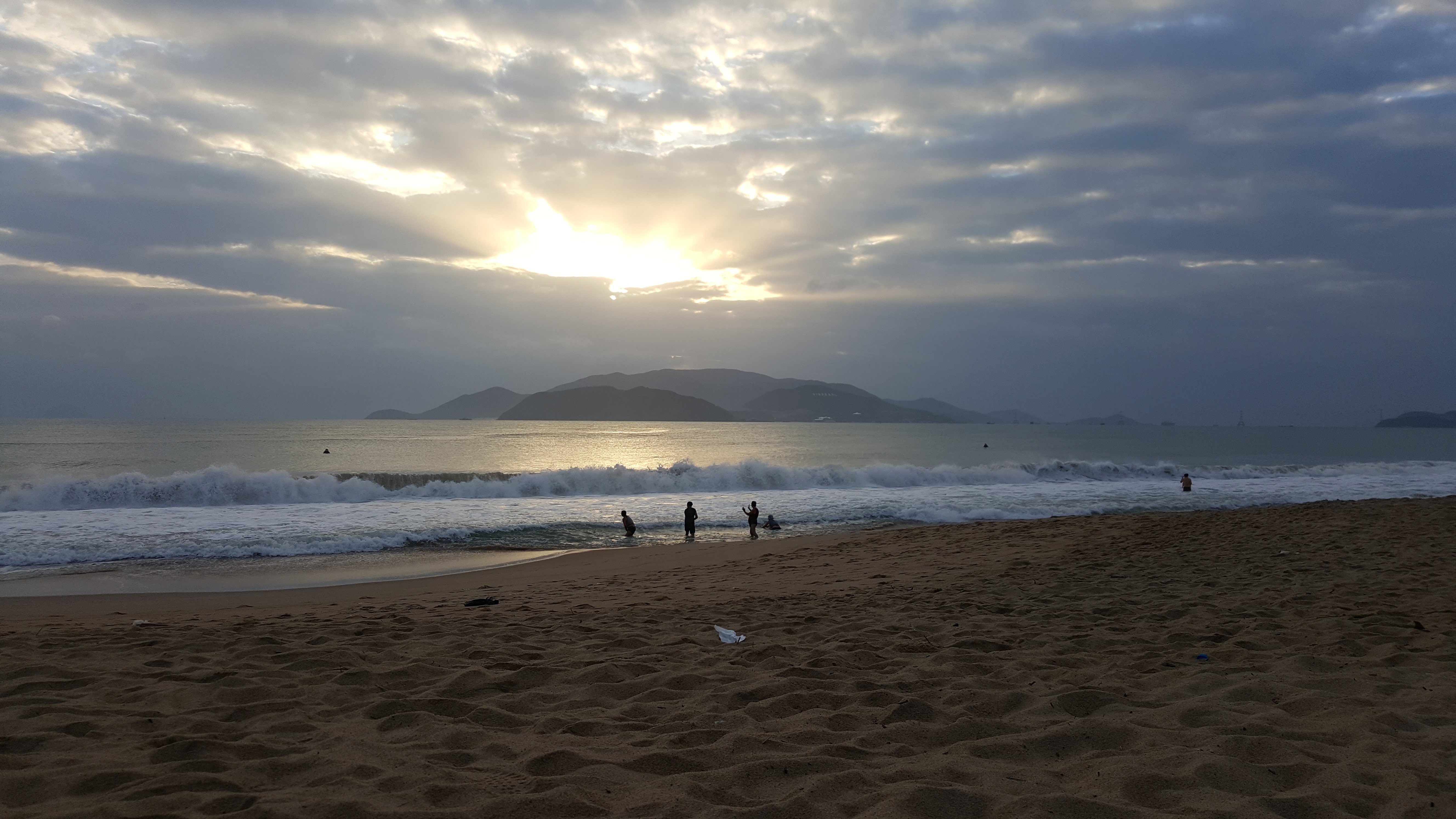 My Khe Beach, Da Nang City
Get up early to take in the day. I used to wake up at 4:30am and go out around 5:00am. Sometimes I would go kayaking and other times I would join the early risers. Many people are out walking, exercising at the beach or in the parks, and dancing. The dancing is fun to watch and makes the day's energy radiate. 6:30-7:00am is the best time to hit the produce markets. It is busy with people and sellers and all the best produce is up for grabs.
A face mask is key when riding a motorbike.
C​over your skin. I love to be tanned and I love to feel the sun on my skin so this rule took me a while to adjust to but became so important to me. You will notice many of the locals will be covered from head to toe and will avoid the sun at all costs. I learned that this was to avoid being tanned as the darker your skin the lower the class you come from, but it's so much more than that. I covered up for protection from the sun and pollution. I would cover up as much as I could when driving my motorbike through-traffic. I would wear a face mask and sunglasses as well. The pollution is pretty bad and when you are in the heat of traffic the smog is awful. I would wash my face after each commute with a face wipe and it would usually come out black. It is also important to limit sun exposure and layering up proved to be a much better solution than constantly having to gob on sun screen.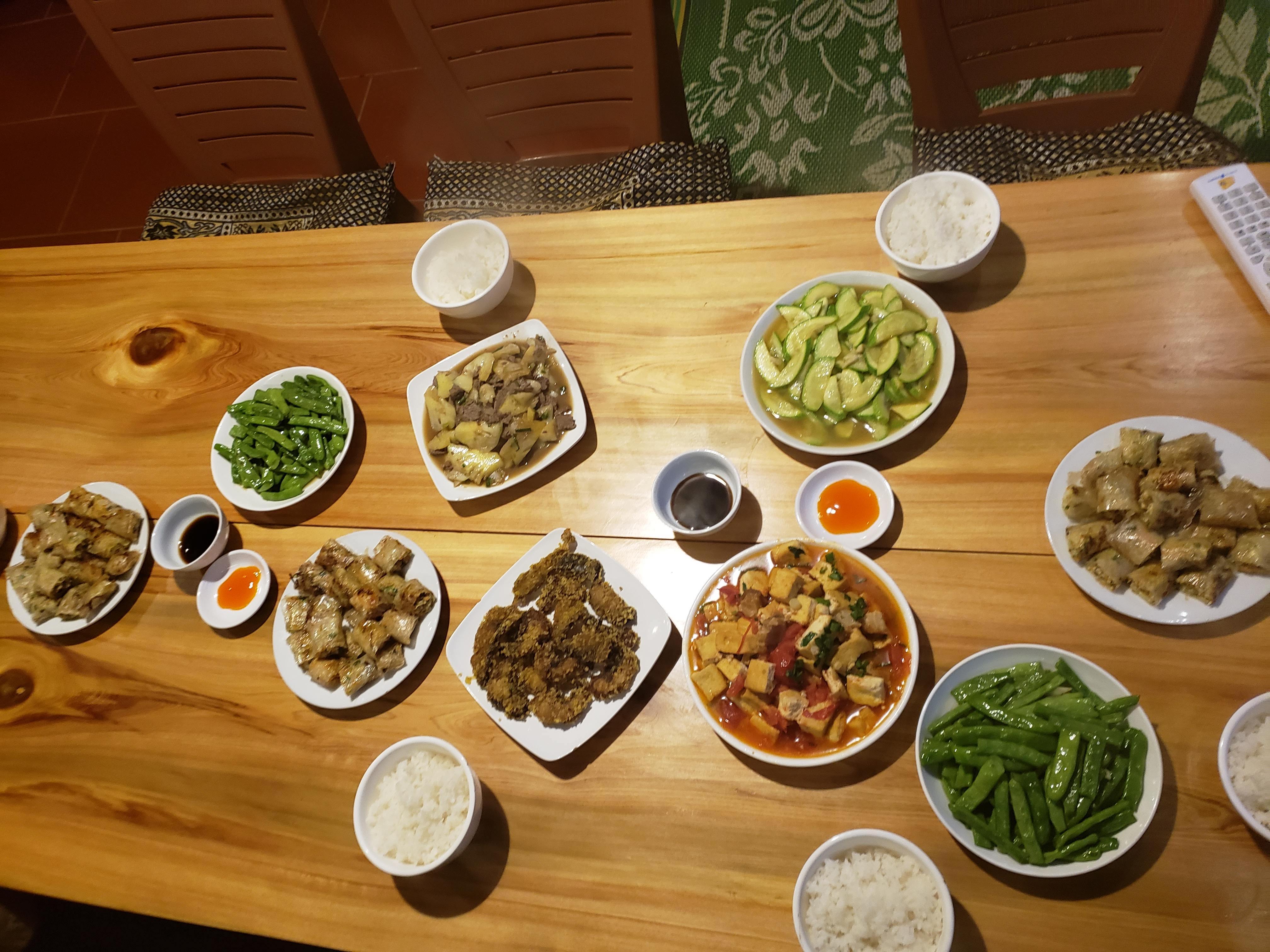 Dinner cooked by our Homestay family.
E​at family style. This is one of my favorite things about the Vietnamese culture. When you go out to eat you do not pick one dish for yourself but multiple dishes for the table. Try all the dishes that you can. The food is incredible and the fact that you get to share the experience with the table makes eating out a very social and communal event.
3​. Pack light and powerful.
Most people suggest packing things that you are not attached to so if it does go missing no harm is done. I am the opposite on this one. I like to pack my favorite versatile outfits. In any foreign country you never know what situation or comfort level may come up thus I pack my clothes that make me feel confident and comfortable. I have learned over the years that I would rather look and feel good then save my favorite clothes for a special moment, the world deserves to see you at your best. Along with that you are going to score some cool clothes for a great price. Make sure you've got room in your bag. The markets are great and scattered with all sorts of unique styles you will want to take advantage of. It is also a great experience to work with a tailor and create custom clothes just for you. My favourite tailor is named Anna and she is located at 503 cửa đại street, Hoi An, just stop by and she will take care of you.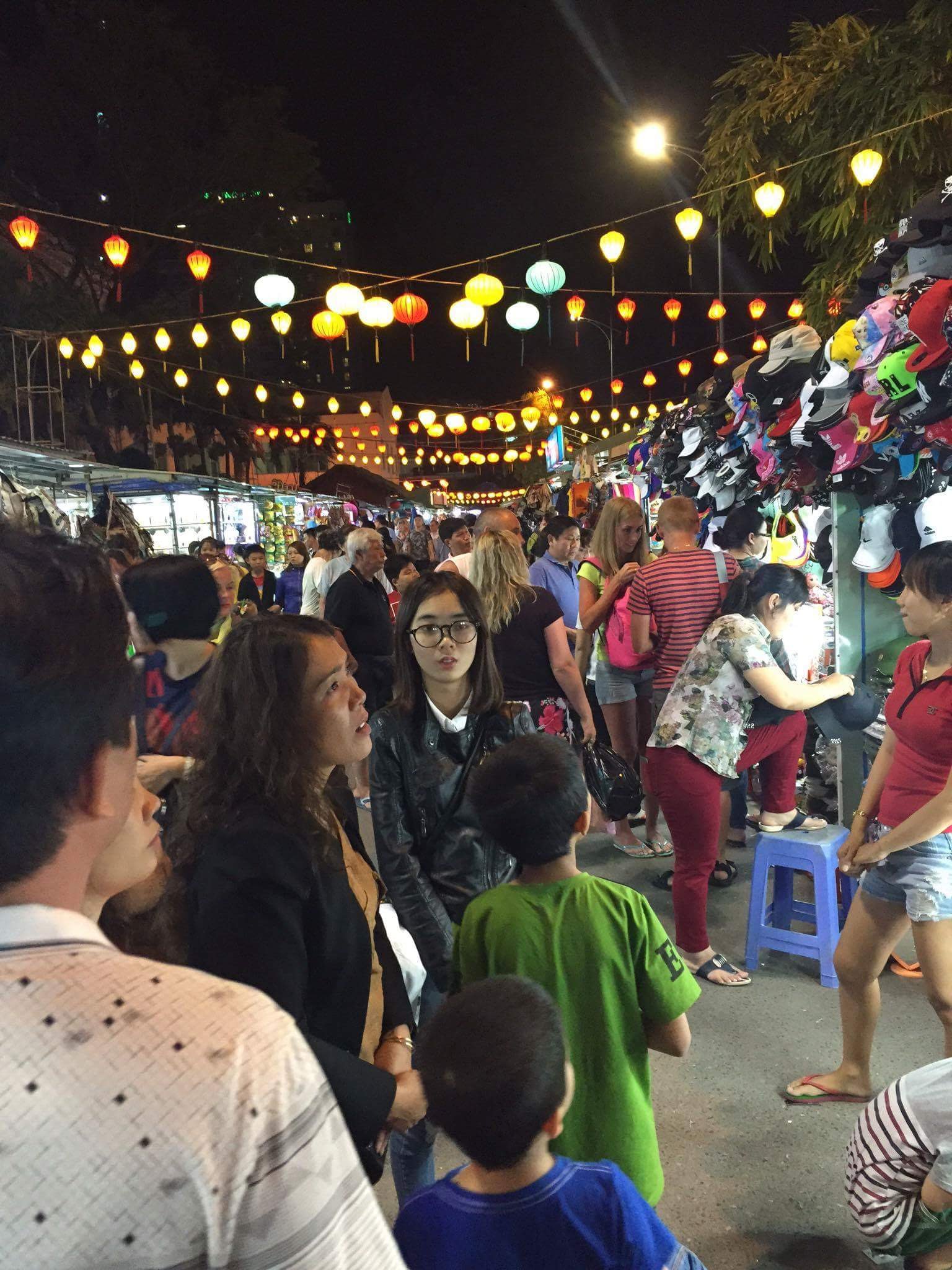 Night Market. Da Nang, Vietnam
4​. Bartering- the do's and don'ts.
Before you start you will have to accept that in order to understand and become a part of the culture you will have to up your bartering game. Here are some solid rules to follow:
S​mile. This simple gesture makes the process start off light-hearted. Smile throughout the experience and both you and the seller will come to a fair agreement in a positive manner.

Half the original price. When you ask the seller "how much" or "bao nhiêu" (how much in Vietnamese-very useful) the seller will give you a price. Smile, give a little giggle, look again at the product and go 50% less than the seller has told you. (If they say 100,000vnd you say 50,000vnd). The Seller will rebuttal but come down to maybe 90,000vnd. You give an approval and say 60,000vnd. This can go back and forth for a few times until you settle on a number between the highest and lowest price. Once you have agreed on the price smile and be grateful for the fun experience.

You will get ripped off, especially at the beginning. This is totally normal. Getting ripped off early is the only way you are going to learn the actual price to pay and how to get it to that price. It is all a part of the learning experience. This happened to me a lot and the biggest one was buying produce from the markets. I started at a market where they saw few Westerners so took advantage of me. Every week I would go back and the price of my produce would go up. The final week I got my usual and the price had gone up significantly. I smiled and gave back all the produce, I finally clued into what the seller had been doing. I then found a new market and a new seller. Our relationship was fun and light and I never felt she ripped me off. My grocery bill costs was reduced nearly 70%! Once I found a good market lady I never strayed. I was a loyal customer and it paid off. If you are lucky enough to have Vietnamese friends or a connection from your hostel or home stay you can always ask what the price of certain things are so you know. Mind you, they will get it for that price and you may get it for a bit more but that's okay, it's all a part of the experience.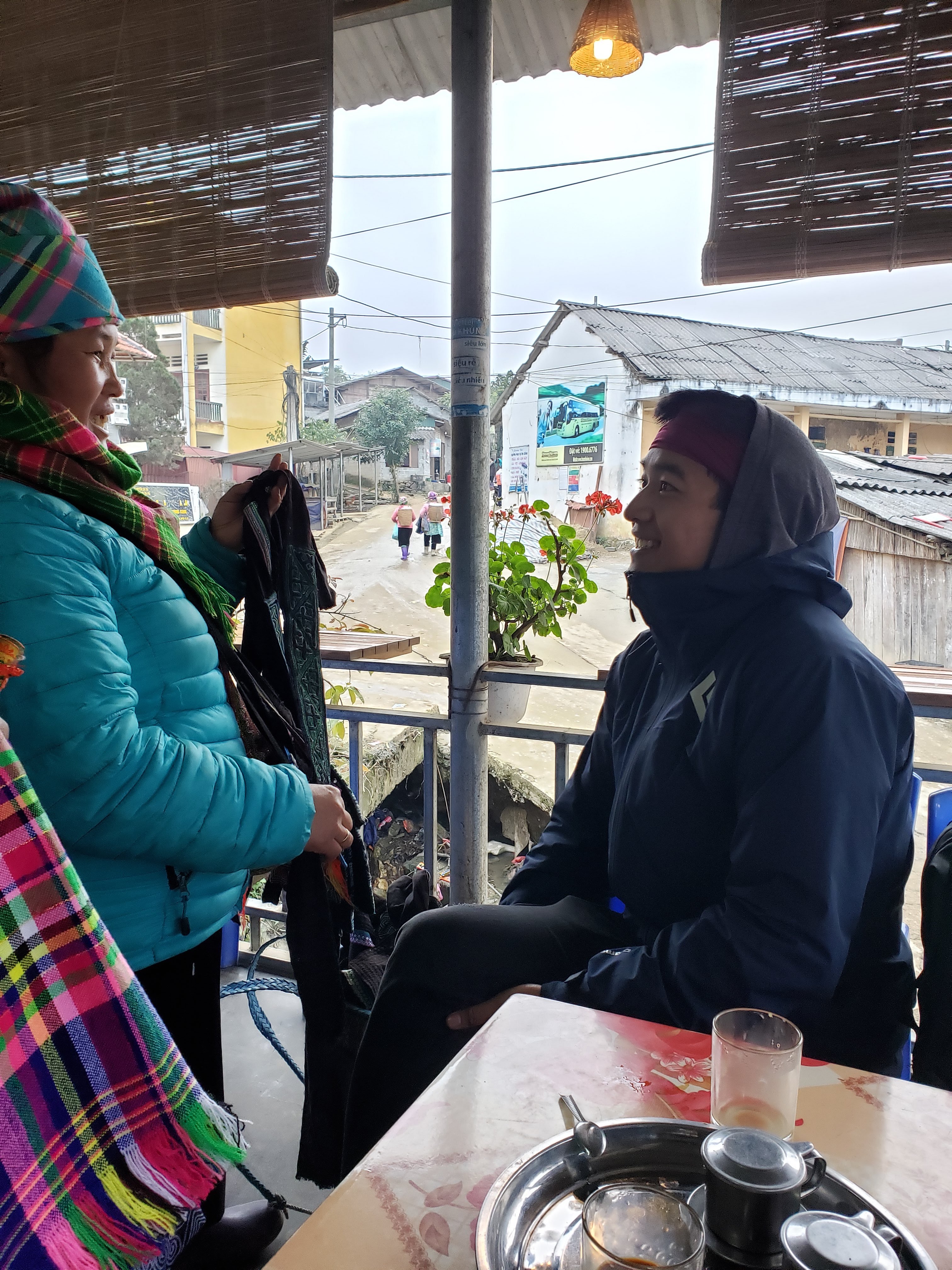 Bartering for a few gifts. Sapa, Vietnam.
Bartering Don'ts:

D​on't barter on food(street food/restaurants) or services. Most of these are a set price so there is no need to try to barter these two areas down. Before ordering or taking in a service (car ride, massage, activity) agree on the price, if you wait until after you will be up charged and you will have to pay that price.

D​on't be a dick. You need to laugh and have fun. I know the markets can be overwhelming-hot, crowded, loud, and none stop attention grabbing sellers, so go in with the right intention. Go in with an open and positive mindset.

D​on't over barter. If you are trying to barter something down to an unreasonable number it won't fly. It is disrespectful and unnecessary. If the price is not what you wanted kindly say thank you and walk away. Make sure to leave yourself and the seller with dignity throughout the whole experience.
5​. Bathroom 101.
Going to the bathroom in Vietnam is a hit or miss experience(no pun intended). This is an area where you have to remove your preconceived standards. However, there are a few things that you can control to make this a better experience. Pack your own toilet paper/wipes/Kleenex. It is important to keep something on you at all times, I prefer to pack the face wipes as they serve a dual-purpose. Never throw anything down the toilet, always use the garbage. Their systems are not set up like ours and this can easily get clogged. Use the bum gun! It will take some getting used to at first but it is totally worth it to expand your bathroom routines to include the bum gun. Give 'down there' a nice little spray (note: always test the bum gun in the toilet first to know the pressure) and then wipe/dab dry. In the long run it does keep things down there much cleaner and you won't have to use as much paper.
Rooftop pool at the Queens FInger, Da Nang, Vietnam.
6​. Women only! Okay ladies, these tips are just for you!
M​enstrual cups and reusable pads. The idea of the cup is a bit hard to adjust to but it doesn't take long to get it right and you will thank yourself for making the switch. Buying tampons and pads can be a tricky process as not many stores carry these items and if they do they are very expensive or not what you are used to. It is good to have your menstrual cup, reusable pads, and then a pack of 'just in case' tampons. Reusable pads can be washed after each use and the cup can be cleaned after your cycle by boiling it in hot water for 10 minutes. My favourite cup is the Diva Cup.

Consciously carrying your purse or bag. When you are in busy areas or on a motorbike in traffic make sure your bag is closed and you have a good grasp on it. If you have the option to put your bag in the trunk of the bike, do so. Bag snatching became a very big problem while I was living there. Some thieves would go for your bag while racing through traffic, meaning you are having to protect yourself and your bag while also trying to manage driving. It sucks to say but don't make yourself a target. If you have valuable items with you (like big bills or your passport) consider buying yourself a Beelieve Bra-ket, the bra with pockets, to store these things while you manage the crowds.

D​ress modestly. Vietnamese culture supports all sorts of beautiful fashion and fabrics and most Vietnamese women dress modestly. Going out to the bars is a fine place to wear a crop top and daisy dukes but be mindful when visiting temples or taking in tours. I would also suggest leaving your shiny and sparkly jewelry behind. You never know who is looking at you and it may give off the impression that there is more to take. I did notice a lot of Vietnamese women wearing stunning jewelry and watches but most of it can be found at extremely discounted prices in the market. I would buy and wear this jewelry out and save my expensive stuff for more formal occasions.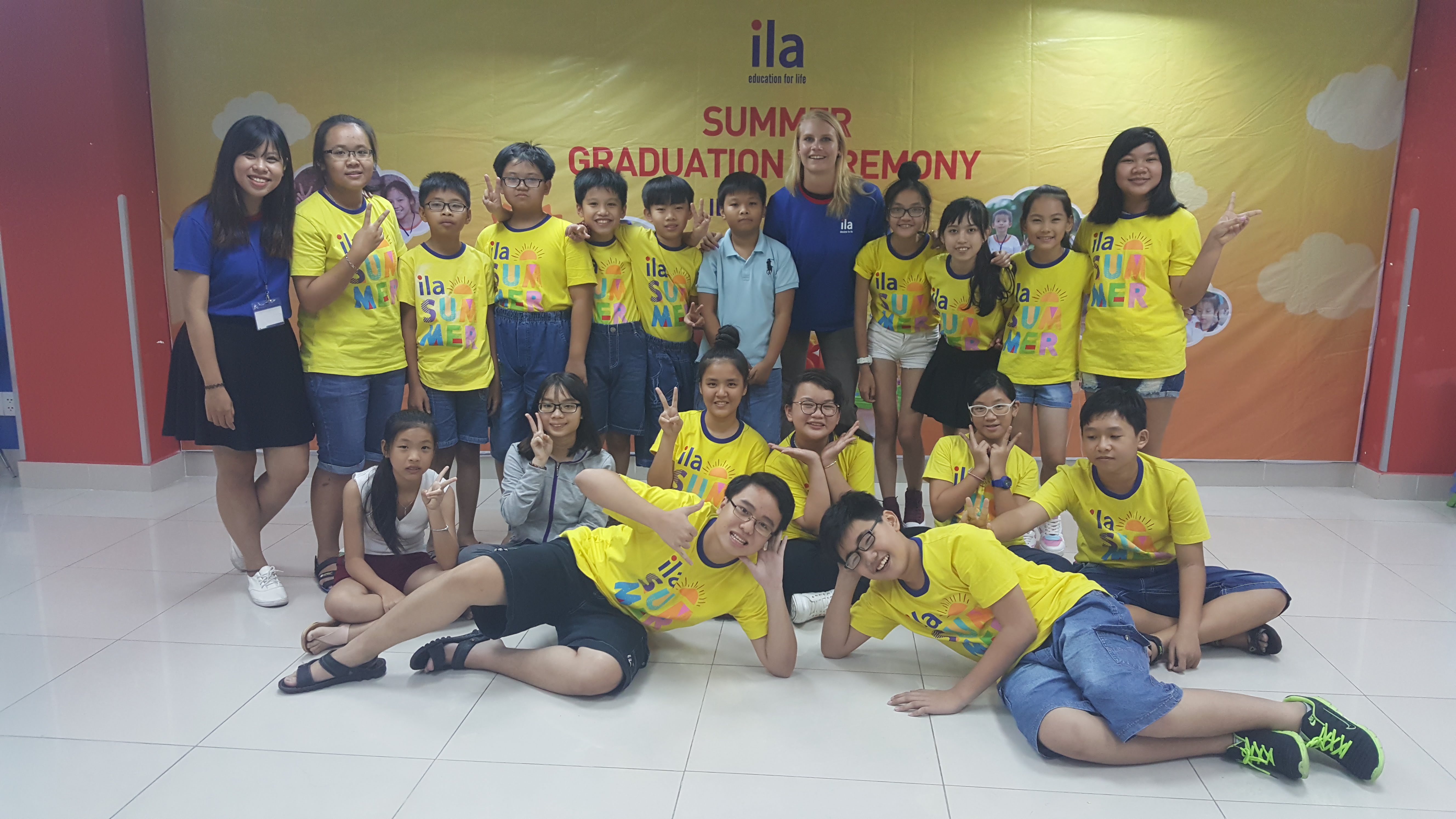 My teens summer class in Ho Chi Minh City, Vietnam.
L​iving in Vietnam was one of the coolest experiences I've had to date. I highly recommend taking some time in your travels to call this place home for a few months. I am most familiar with Da Nang City as I spent over a year there teaching English at ILA, but there is so much to explore.
If you are heading to Vietnam or wanting to try teaching English abroad feel free to leave a comment or send me an email.
B​est of luck taking on Vietnam like a pro.